Filter by Category
Wednesday Courses
Online Registration Unavailable
Magical Mystery Tour of the British Isles
with Nancy Perkins
This course will examine the history of the mystery in the British Isles and learn the elements of a classic mystery. We will then travel from the Shetland Islands to the great city of London learning of the great detectives that work to keep the island safe. On the final day of class you will be asked to report on a British mystery that you have read, delineating the elements of the mystery in your selection and why you liked (or disliked) the story.
Text: Your choice of a British mystery from a Sherlock Holmes story to a Jacqueline Winspear tale of Maisie Dobbs. It's your choice!
I have taught this and many other courses for the past 5 years at Belfast Senior College. I am teaching this course at 3 other Senior Colleges this year via Zoom and am very comfortable with this medium. My education was focused on British History and Literature but I never taught until coming to Senior College. I am an inveterate mystery lover always seeking a new favorite to read.
Note: This course will be taught online with remote connections via Zoom.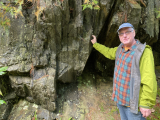 A Rock Walk
with Fred Bowers

Oct 19, 2022 at 12:30 pm
You are invited to join retired soil scientist/geologist, Fred Bowers for an outdoor talk about rock formations and a walk along the shore of Belfastharbor presented on Wednesday, October 19 at low tide. We will gather at the Belfast Boat House at 12:30 pm to hear Bowers describe how the rock formations we see in Belfast were formed millions of years ago, and also see evidence that Belfast was under a layer of ice a mile thick, 50,000 years ago. Bowers will then lead a short beach walk to examine the glacial till, volcanic intrusions, glacial erratics, and the composition of ledge outcroppings along the shore. Fred Bowers holds a Ph.D. in Forest Soils and worked for 27 years as a Research Scientist for the New Jersey Department of Environmental Protection. He lives in Belfast and has taught classes at Belfast SeniorCollege relating to local rocks, soils, and landscapes.