Filter by Category
Science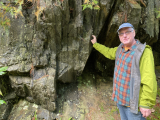 A Rock Walk
with Fred Bowers

Oct 19, 2022 at 12:30 pm
You are invited to join retired soil scientist/geologist, Fred Bowers for an outdoor talk about rock formations and a walk along the shore of Belfastharbor presented on Wednesday, October 19 at low tide. We will gather at the Belfast Boat House at 12:30 pm to hear Bowers describe how the rock formations we see in Belfast were formed millions of years ago, and also see evidence that Belfast was under a layer of ice a mile thick, 50,000 years ago. Bowers will then lead a short beach walk to examine the glacial till, volcanic intrusions, glacial erratics, and the composition of ledge outcroppings along the shore. Fred Bowers holds a Ph.D. in Forest Soils and worked for 27 years as a Research Scientist for the New Jersey Department of Environmental Protection. He lives in Belfast and has taught classes at Belfast SeniorCollege relating to local rocks, soils, and landscapes.
Bogs and Their Incredible Roles in Easing Our Warming Climate - BBL
with Annette Naegel

Oct 20, 2022 at 11:45 am
A Brown Bag Lunch event!
Annette will speak generally about the importance of bogs and their role in the natural environment, using a few examples in the upper watershed such as Appleton Bog and Fox and Hemingway Pond/bog. She will end her talk with the Rockland Bog, for which the Georges River Land Trust is raising funds toward the conservation of 500+ acres.
Annette is Conservation Director of the Georges River Land Trust.
This is a brown-bag lunch event which is free and open to the public.