Filter by Category
Lunchtime
Have You Heard There's Another Plan to Develop Sears Island? - BBL
with Susan White

Oct 13, 2022 at 11:45 am
A Brown Bag Lunch event!
Susan White and Rolf Olsen are President and Vice President respectively of the Friends of Sears Island. They will discuss the state's proposal to use about 80 acres on the western shore to build enormous floating wind turbines that will be deployed in the Gulf of Maine. They recommend not building this site on Sears Island, and their talk will focus on the status of the effort and how people can voice their opinions to help influence the project.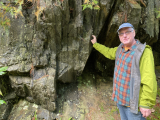 A Rock Walk
with Fred Bowers

Oct 19, 2022 at 12:30 pm
You are invited to join retired soil scientist/geologist, Fred Bowers for an outdoor talk about rock formations and a walk along the shore of Belfastharbor presented on Wednesday, October 19 at low tide. We will gather at the Belfast Boat House at 12:30 pm to hear Bowers describe how the rock formations we see in Belfast were formed millions of years ago, and also see evidence that Belfast was under a layer of ice a mile thick, 50,000 years ago. Bowers will then lead a short beach walk to examine the glacial till, volcanic intrusions, glacial erratics, and the composition of ledge outcroppings along the shore. Fred Bowers holds a Ph.D. in Forest Soils and worked for 27 years as a Research Scientist for the New Jersey Department of Environmental Protection. He lives in Belfast and has taught classes at Belfast SeniorCollege relating to local rocks, soils, and landscapes.
Unanswered Questions: Poetry as Discovery - BBL
with Stuart Kestenbaum

Oct 27, 2022 at 11:45 am
A Brown Bag Lunch event!
Stuart Kestenbaum is the author of six collections of poems, most recently Things Seemed to Be Breaking, and The View from Here, a collection of essays. He was the host of the Maine Public Radio program Poems from Here and the host/curator of the podcasts Make/Time and Voices of the Future. He has written and spoken widely on craft making and creativity, and his poems and writing have appeared in numerous small press publications and magazines. He was the director of Haystack Mountain School of Crafts from 1988 until 2015, and more recently he has helped design and implement a residency program for artists and writers called Monson Arts.
Stuart served as Maine's poet laureate from 2016 to 2021. Former US Poet Laureate Ted Kooser has written "Stuart Kestenbaum writes the kind of poems I love to read, heartfelt responses to the privilege of having been given a life. No hidden agendas here, no theories to espouse, nothing but life, pure life, set down with craft and love."
Full Course