Filter by Subcategory
Day of Week
Bogs and Their Incredible Roles in Easing Our Warming Climate - BBL
with Annette Naegel

Oct 20, 2022 at 11:45 am
A Brown Bag Lunch event!
Annette will speak generally about the importance of bogs and their role in the natural environment, using a few examples in the upper watershed such as Appleton Bog and Fox and Hemingway Pond/bog. She will end her talk with the Rockland Bog, for which the Georges River Land Trust is raising funds toward the conservation of 500+ acres.
Annette is Conservation Director of the Georges River Land Trust.
This is a brown-bag lunch event which is free and open to the public.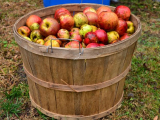 DIY Cider
with David Greeley

Oct 22, 2022 at 9:30 am
GOT APPLES? Maybe a friend or neighbor has productive trees with the apples going to waste? Gather them up, drops are OK unless they are too far gone, and bring them to our farm in Jackson and turn them in to cider. We'll run them through a shredder then press them with a hydraulic press. Voila! Sweet cider makes a wonderful drink or you can try making hard cider. A five gallon bucket of apples makes about one gallon of cider. So bring a mess of apples and clean empty milk jugs or similar to carry your cider home. Rain or shine as the set up is under cover.
This day will be spent at David's Farm.
Unanswered Questions: Poetry as Discovery - BBL
with Stuart Kestenbaum

Oct 27, 2022 at 11:45 am
A Brown Bag Lunch event!
Stuart Kestenbaum is the author of six collections of poems, most recently Things Seemed to Be Breaking, and The View from Here, a collection of essays. He was the host of the Maine Public Radio program Poems from Here and the host/curator of the podcasts Make/Time and Voices of the Future. He has written and spoken widely on craft making and creativity, and his poems and writing have appeared in numerous small press publications and magazines. He was the director of Haystack Mountain School of Crafts from 1988 until 2015, and more recently he has helped design and implement a residency program for artists and writers called Monson Arts.
Stuart served as Maine's poet laureate from 2016 to 2021. Former US Poet Laureate Ted Kooser has written "Stuart Kestenbaum writes the kind of poems I love to read, heartfelt responses to the privilege of having been given a life. No hidden agendas here, no theories to espouse, nothing but life, pure life, set down with craft and love."
Full Course